Are you able to fix the strange machine before the boss discovers that you have broken it?
Which team is the quickest to decrypt the clues, open the toolbox and fix the machine?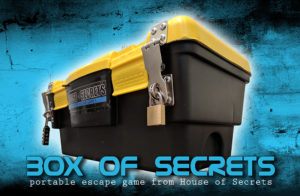 The story
The boss has for a long time been working on an invention without telling you what it is going to be used for. You have only been told that you must not touch it. It is of course exactly what you do while the boss is out, and now an important part of the machine is broken. The boss is back in 60 minutes, and unless you get the machine fixed before that time, you will be in trouble. You know there is a spare part in a locked toolbox you have found. Get the spare part and repair the machine before the boss finds out what has happened!
The game
The game and the puzzles are similar to those you can find in a normal escape room, except that these ones are portable and customized for larger groups. Our Game Masters will bring along all the required equipment, and meet you wherever you need. They can assist you in either Norwegian or English. The clues in the toolbox are either language-independent, or require you to know either Norwegian or English (it is not necessary to know both).
The teams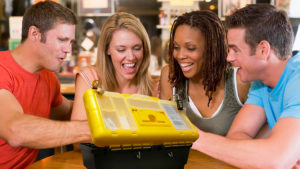 Box of Secrets is a team-based game. Each team consists of 3–4 players who will have to work together to overcome the challenges. They must solve a variety of exciting tasks in order to open the toolbox and fix the invention.
Box of Secrets is well suited for 7 to 32 players. However, we are continuously working to increase the upper limit. Please do not hesitate to contact us, even if you represent a group of more than 32 people. Or see if maybe Safe of Secrets could be a good alternative for you.
Who?
Box of Secrets brings the highlight to a number of occasions; such as birthday parties, summer parties, christmas parties, team-building events, kick-offs, conferences or bachelor/bachelorette parties.
Box of Secrets comes in two variants; the full version for adults and teenagers, and a bit easier version for children from about 8 years old. However, if the players are under 11 years old, it is strongly recommended to include an adult (for free) on each team.
What is needed from you?
– A venue that is big enough for all the players*. Groups of up to 20 people can use Peppes Pizza at Løren if they want to.
– Table with chairs for each team, spread in one or more rooms
– About 70 minutes for the game
– Optional: a prize for the winning team
* Please let us know if there is no electricity in the room / no available sockets nearby.
Interested?
Does this sound exciting?
Please contact us at booking@houseofsecrets.no
Prices
At a venue of your choice in Oslo:
7–32 persons (2-8 teams)
NOK 300,- per person incl. VAT
Outside of Oslo, or for groups of more than 32 persons:
Send us a request at booking@houseofsecrets.no
Birthday deal in cooperation with Peppes Pizza at Løren:
7–20 persons (2-5 teams)
NOK 450,- per person incl. VAT
The birthday deal includes Box of Secrets, as much Classic Chicago Pizza you want, a popsicle for dessert and a 0.4 l soft drink of your choice. In addition, the birthday child gets an extra surprise! When ordering, it must be stated whether some of the guests have special allergies that require food to be brought to the restaurant.
Norsk | English
---


booking@houseofsecrets.no


Messenger


401 74 920